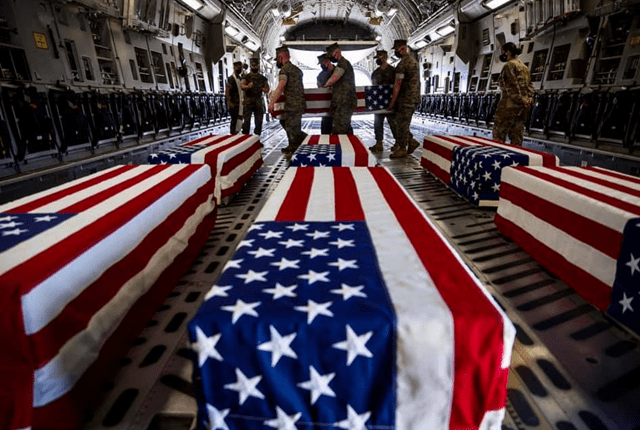 With great respect, we honor the seven Marines and 1 Sailor from the July 30 assault amphibious vehicle mishap of the coast of San Clemente Island.
Remains of the 7 recovered Marines and 1 Sailor have been boarded onto a C-17 Globemaster at MCAS Miramar, bound for Dover AFB.
The remains of seven Marines and a Sailor recovered Aug. 7 off the coast of San Clemente Island following a July 30 assault amphibious vehicle mishap were transferred Aug. 12 to Dover Air Force Base, Delaware, from Marine Corps Air Station Miramar, California.

Six pallbearers of Marines and Sailors escorted each casket aboard a U.S. Air Force C-17 Globemaster III bound for Dover AFB for final preparation for burial before being released to their families for final arrangements.

​Transferred were:
Pfc. Bryan J. Baltierra, 18, of Corona, California
Lance Cpl. Marco A. Barranco, 21, of Montebello, California
Pfc. Evan A. Bath, 19, of Oak Creek, Wisconsin
Navy Hospital Corpsman 3rd Class (Fleet Marine Force) Christopher Gnem, 22, of Stockton, California
Pfc. Jack-Ryan Ostrovsky, 20, of Bend, Oregon
Cpl. Wesley A. Rodd, 22, of Harris, Texas
Cpl. Cesar A. Villanueva, 21, of Riverside, California
Lance Cpl. Chase D. Sweetwood, 18, of Portland, Oregon
The remains of Lance Cpl. Guillermo S. Perez, 19, of New Braunfels, Texas, who also died in the AAV mishap July 30, were transferred to Dover AFB on Aug. 5 from MCAS Miramar.
Tags: