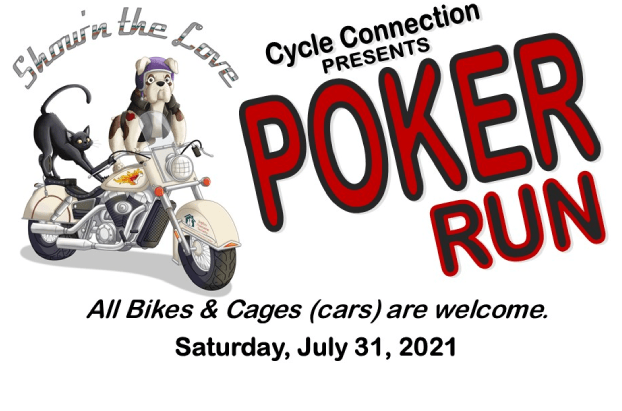 Show'n the Love Poker Run presented by Cycle Connection is coming Saturday, July 31, 2021. All Bikes & Cages (cars) are welcome.
Pre-Register for $25 before July 26, 2021. $30 day of event with $15 for an extra hand and $5 for a mulligan (extra card).
Winning hand $1000! Worst Hand $250! Ride begins at the Joplin Humane Society. Registration opens at 9:00 am with the first bikes out at 10:00am. All participants must be in by 3:00pm. Final stop is at the Rivers Bend Restaurant & Bar with entertainment by Jeff Tatum & the Palomino Moon Band.
https://www.joplinhumane.org/store/p7131/Poker_Run.html?fbclid=IwAR26LzFiSekhD2eapEKIkVh59d-Cbpv8PIovb18m26aSqm9Qxy9UvlndHpo