We found an easy way to "pay it forward"…Let's help make life a little easier for a group of students in Joplin at the Memorial Education Center.  We literally can change the world with a simple jester of giving.  We have a list of simple hygiene items needed for these students to see that we believe the saying, "It takes a village to raise a child.
Shampoo and conditioner
Bars of soap
Body Wash
Deodorant
Tooth Paste
Tooth Brushes
Combs/Brush
Laundry Detergent (pods)
Note: These items are needed by Monday, October 26th. Details where to drop these items off below. Don't hesitate to email Sarah if you have any questions.
Friends, we need your help! Can you grab some hygiene items for a few Joplin students in need?
These students deal with homelessness, lack of utilities, and other barriers. If you'd like to help, please bring any of the hygiene items listed below to Memorial Education Center (825 S. Pearl) by 10 a.m. Monday morning or email sarahcoyne@joplinschools.org to arrange delivery. Thank you for helping our kiddos to be clean and confident at school!
Bright Futures Joplin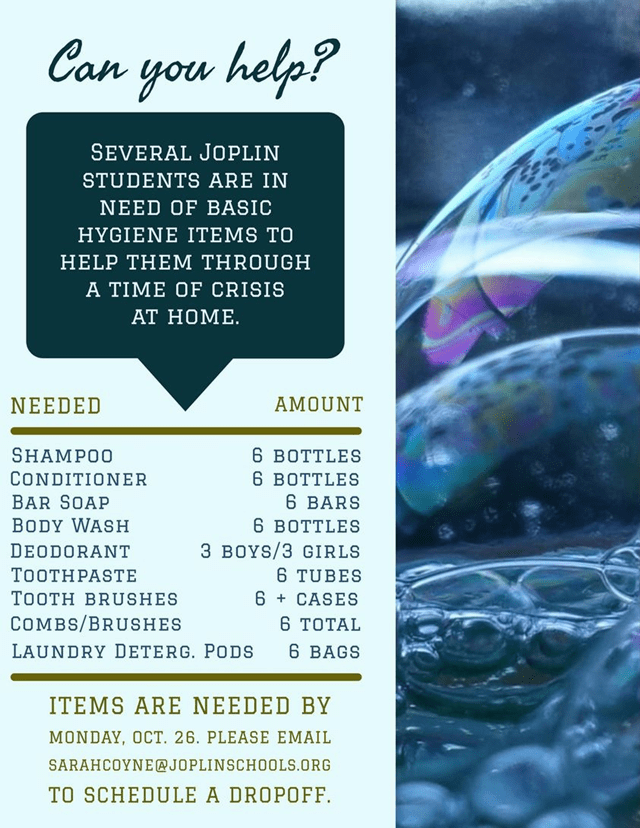 Tags: