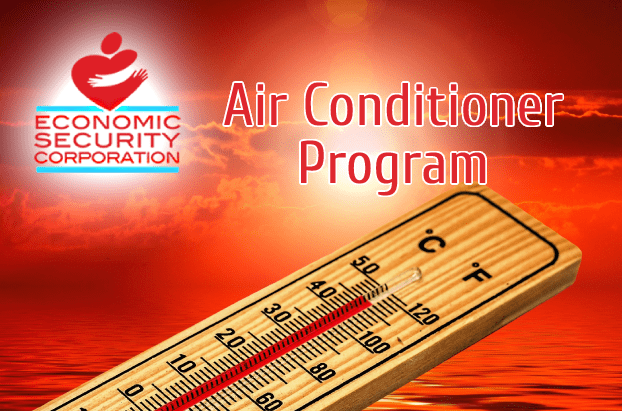 ECIP has released their air conditioner program for eligible households. If you or someone you know is in need of air conditioning or repair, see if you qualify below.
Economic Security Corporation's Summer Energy Crisis Intervention Program's Air Conditioner Option
The Missouri Department of Social Services in an effort to respond to the excessive heat and Low-Income Home Energy Assistance Program (LIHEAP) services can provide an air conditioner to eligible households who do not have one or can make repairs to an existing A/C unit.
Summer Energy Crisis Intervention Program (ECIP) provides air conditioners or A/C repairs to eligible households:
• Meet income eligibility level to qualify up to 60% of the Missouri SMI guidelines, and
• Maximum ECIP benefit is up to $600 per household (includes any summer utility assistance received
to date plus an AC), and
• Household must have a member who is 65 years of age or older, or
• A letter from a qualified physician or nurse practitioner stating that a life-threatening condition exists where an air conditioner will eliminate or significantly reduce the possibility of loss of life or heat related illness.
• Have less than $3,000 in bank accounts, retirement accounts or investments, and
• Be a U.S. citizen or legally admitted for permanent residents.
We will continue to engage the public using phones, social media (Facebook), website (www.escswa.org) or Energy Assistance's direct email: mailto:liheap@escswa.org. If you need to reach any of the staff at these offices please use, the following direct phone lines/email:
ESC Central Office in Joplin:
• Utility Assistance: 417-781-0352, select option 515 or liheap@escswa.org
Other ESC Office Locations in Southwest Missouri:
• ESC's Neosho Office: 417-451-2206
• ESC's Anderson Office: 417-845-6011
• ESC's Lamar Office: 417-682-5591
Click HERE for Income Limits and More Information.
About Economic Security Corporation: Since 1965, Economic Security Corporation has been a leader in developing solutions and bringing resources to Barton, Jasper, Newton and McDonald County. It offers a diversity of services meeting basic human needs for food and shelter, while enriching people's lives by providing access to increased education, skills, and building relationships for the future. ESC is a private nonprofit organization that receives federal, state and local funding; foundation grants; and donations from individuals and businesses in our community. To learn more about Economic Security Corporation please visit www.escswa.org